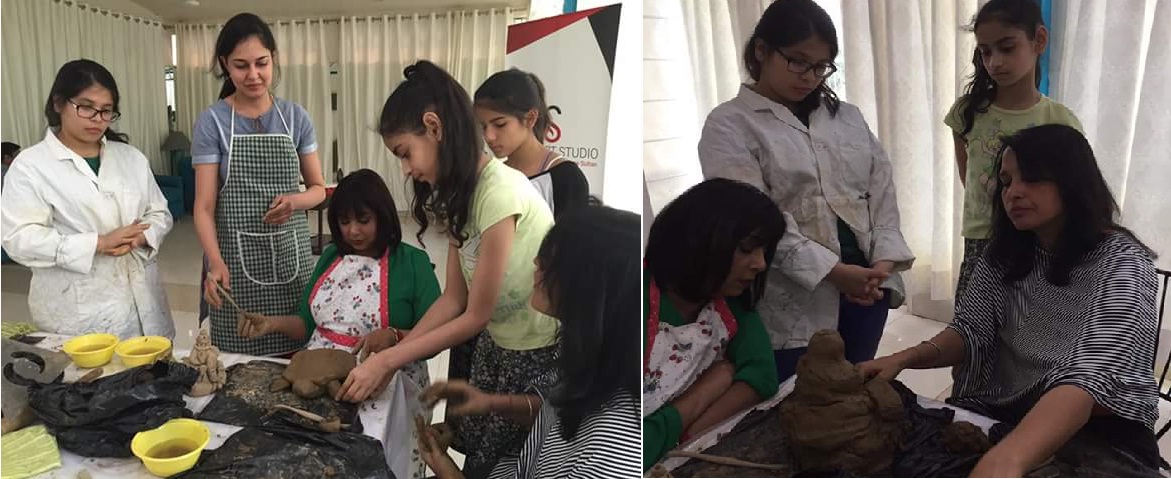 Making sculptures need a lot of creative instincts – true. That is what many a people believe in and give arts specially sculpting a miss. But friends it's not difficult to cultivate if one is guided right.
Clay modelling and sculpting gets one totally absorbed and almost forget his/her as imagination plays with a lifeless lump of clay, and shape a beautiful piece of art. Those who've known the charm of clay in their fingers say clay modelling and making sculptures are a higher form of expressing your artistic self. For fingers that have never really had the time to shape up their passion for clay, it gives you some reasons to try it. Right from satisfying a creative urge to distressing to just honing your skills, clay, say experts, is a great way to sculpt your creative needs.
Sheela Chamariya, a renowned sculptor, who believes in creating her own work and is also very passionate about sharing her knowledge by regularly conducting sculpture classes and workshops in various school colleges like St Stephens, Hindu college and various art galleries and at her own studio.
She offers sculpture/clay modeling regular classes and has morning and evening batches, where she teaches right from the basics. She also offers Certificate Courses for those who wish to make a career as an artist in the field of sculpting and clay modeling
Sheela has been teaching clay modelling and sculpting at her studio at Mahendru Enclave for more than 20 years. Starting from the very basics of clay preparation, to creating features and concepts, she takes the students into a journey of experiencing sheer transformation of ideas. She explains – "It's not just a form of art, it's a creative urge, which I think every individual has. Clay modelling helps to freshen the mind. It's a kind of meditation, a very therapeutic thing."
Sheela says – "Sculpture is a very relaxing form of art and I think more people are realizing it over the past few years. You are so close to your creative side, it just completely shapes the clay before you."
Ms Chamariya has taught a number of professionals, including doctors, young managers and actors.
Sculpting Classes Details
Classes Venue 1: D112 Basement, Mahendru Enclave, Gujranwala Town(Model Town 4), New Delhi-33. The studio is just a short walk from the Azadpur Metro Station.
Classes Venue 2: Academy of Fine Art and Literature, 4/6 Siri Fort Institutional Area, Opposite Gate No. 2, Siri Fort Auditorium, New Delhi 110049, Near Green Park Metro Station.
Duration: Sheela believes that Sculpting like any other art form explores your being be it mind body or soul, it helps your body to coordinate on emotional and physical level. It is an evolution over time and hence there is no set duration for the course. You may continue till you feel confident. Many of her students have continued the classes for over a decade and have evolved as amazing artists, however to get a grip of basics one should join classes for a minimum of 3 months.
Class Timings: Regular Classes are held on Alternate Days – twice a week– 11:30 am till 1:00 pm. and, 4pm till 5.30 pm.(one month is Session of Eight classes)
Sunday/Saturday Only Classes for working professionals – 11:30am to 1:00 Pm
For certificate courses Click Here.
Admission Process: For admission you may call and fix and appointment with Ms. Sheela Chamariya before visiting her at her Studio. You will be interviewed and accessed before being allowed to join the classes. If accepted, you can pay the registration and monthly fee in advance
Note: Sheela takes small batches with limited no of students to ensure focused teaching.
If you have a query please call at +91 9891043358
You can also send your query via the Contact Form given below.
(Visited 525 times, 1 visits today)